Here it is..... (drumroll please)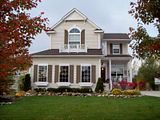 We are starting to pack and we should be all moved in by the end of the month!
Ruby is so excited to have a pink room and Ryan is happy to be so close to Grandma and Papa. I'm so thankful that God provided us with a safe place to live where I know the kids will be happy. Thanks to everyone who have been praying for us!
"I'm sticking with God. I say it over and over again- He's all I've got left. He proves to be good to me and to all who passionately wait and diligently seek Him. It's a good thing to quietly hope for help from God.
- Lamentations 3:24-26 (The Message)